I usually don't buy expensive brushes because I think sometimes people overvalue the brush and undervalue the skill of the one using the brush.
HOWEVER!
I must give a shout-out to my magical watercolor brush. It's amazing and can produce large washes, tiny detail, and holds water in the perfect amount. I do the majority of watercolor painting with this brush alone. Indeed, it must have been give to me by a fairy godmother sometime in my life.
(Actually, the truth is that this brush is the one that was required in my university watercolor course, tee-hee.) Am I happy that it was required, or what? I'll use it until it disintegrates (which will probably be in 100 years) and then quickly buy another one because I cannot live without this lovely thing. The price is super economical for how excellent this brush is. If you work with watercolor in any degree, I recommend you
order this brush
immediately.
Windsor & Newton Cotman No. 8 Round
, my love.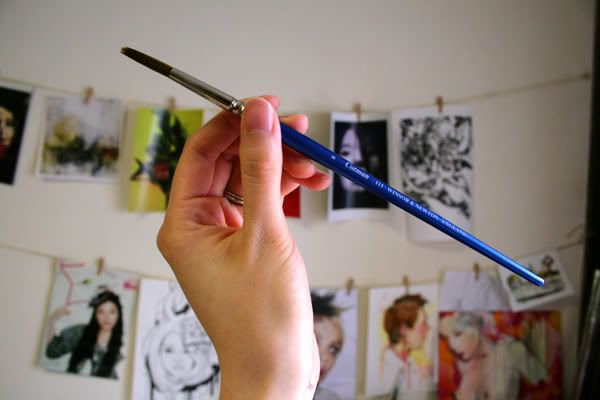 I see that there's an entire series of the Cotman in various sizes. Uh-oh, where mah Hobby Lobby 40% off coupon be? XD