Keiko Miyashita
(宮下桂子) is a fabulous artist working from Yokohama, Japan. I've known about her for a long time because her family is friends with mine. She recently had a solo show in Korea, and I don't think she'll stop being amazing anytime soon! Check out her soothing, sweet works along with this interview, which I've copied here in the original Japanese and translated for you into English. Enjoy~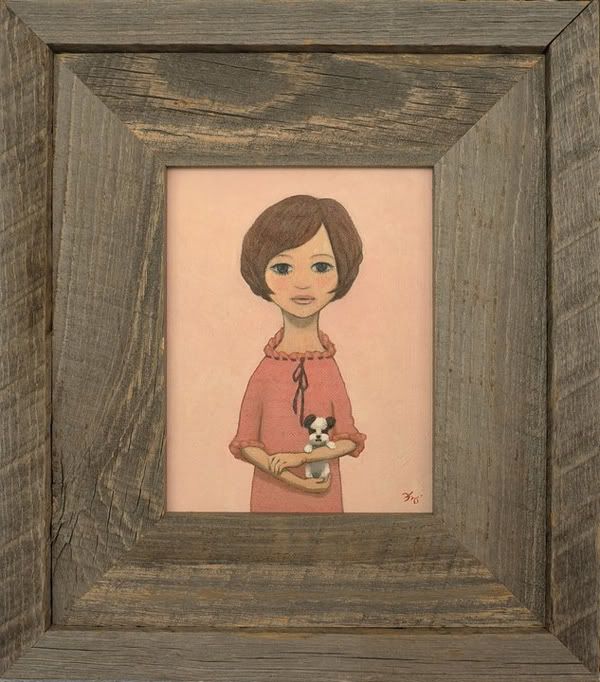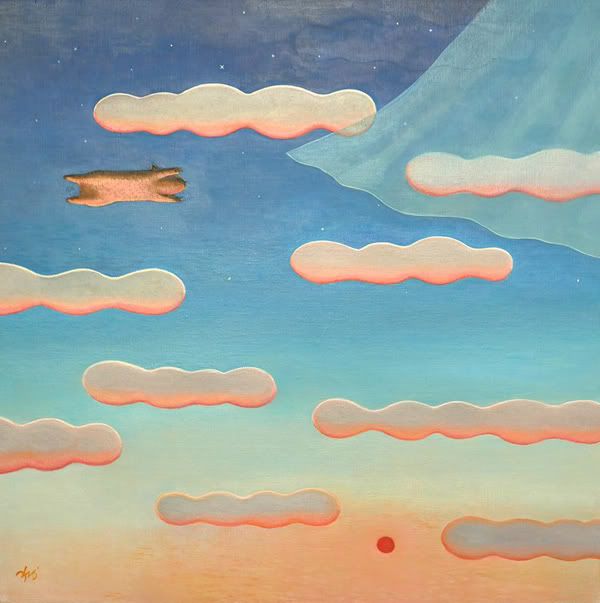 J: 桂子さんの絵には色々なテーマが出てきます。どういう風にテーマを選ぶのですか?
J: You deal with many different themes in your artwork. How do you go about picking a theme?
K: テーマは描き始めた時からつながっているのですが「インナーチャイルド」が描きたいこと表現したい気持ちなどを一番適当に表現しているキャラクターで描くことを挑戦しています。
インナーチャイルドが最初は人や動物のほとんどいない風景を描きたいと感じていたので、そういう風景からスタートし、徐々に人物や動物が出てきて、目を閉じていた人物も目を開けている状態にまで変わりました。(まだ無表情に近いですが…)
私の中のもう一人の成長しきれていない自分を絵をかきながらケアーしてる面と、知らなかった自分の側面を絵を描くことで発見している楽しさがあります。
KM: I have common themes when I start painting. I challenge myself to create characters which reflect how my "inner child" wants to paint and feel. In the beginning, because my inner child was drawn to portraying a world without humans or animals, I started with blank scenery. Later on, the humans and animals gradually appeared. At first they were closed-eyed characters, and then they changed to open-eyed (although they were still quite expressionless.)
I enjoy being able to care for this other child-like person inside of me, as well as discovering this new dimension to myself through creating art.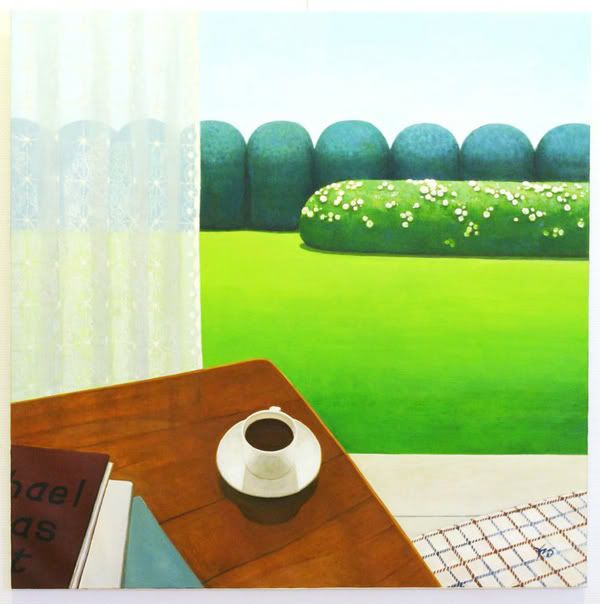 J: 桂子さんの絵のスタイルは今カリフォルニアで最も注目されています。日本でもこのスタイルは今人気なのでしょうか?
I think your style is a very popular style right now in places like California. Is this sort of style popular in Japan as well?
K: 日本のアート界で何が起きているのかはあまり分析していないのでわかりませんが、漫画で育った世代ですから、どうしてもその影響はあると思いますが・・・?こういう作品のスタイルが注目されているの?知らなかった!!って感じです♪
日本人の感覚には「間」というのがあるようですね。何も描かれていない空間が大事。みたいな。。。私もそういうのが大好きです。はやりすたりなくこれは感覚的に気持ちがいい「間」を追求したくなりますね!
KM: Although I haven't analyzed the Japanese art market, we are a culture raised on manga, so there is that inescapable influence. I actually didn't realize this style was so popular in the US!
In Japanese art, negative space is very important. I also love negative space. I am continually seeking this negative space which is so comforting for the viewer... it'll never go out of style.
J: アメリカでは最近インターネットを使って個人的に絵を売るアーティストが増えてます。日本ではどうですか?
J: In the US, artists recently sell their works online without assistance of a gallery. What about in Japan?
K: 日本でもインターネットで作品を売る方法は普通になってきてると思いますが、まだ個人では珍しいかもしれませんね。ネットを見て絵を買う人もまだ一部だと 思います。そして国内より海外のクライアントが気に入った作家の作品や気に入ってるギャラリーの作品を買うためにネット販売は役立っているんじゃないかし ら?事実はどうかわかりません…
KM: Of course there are online art sales in Japan, but it's rarer to see individuals doing this. There is also a limited number of people who will buy art by seeing it online. I think online art sales are more beneficial to clients outside Japan who would like to buy work from their favorite artist or gallery. I'm not entirely certain, though.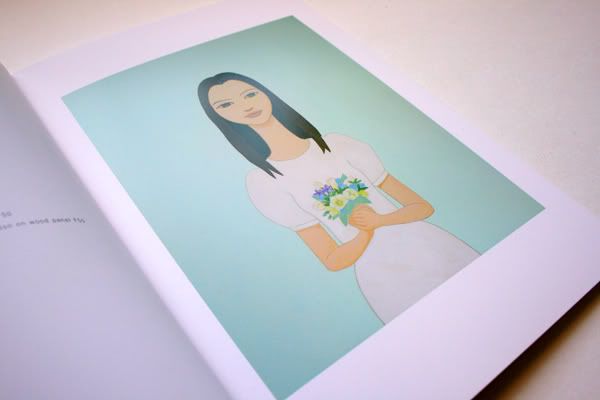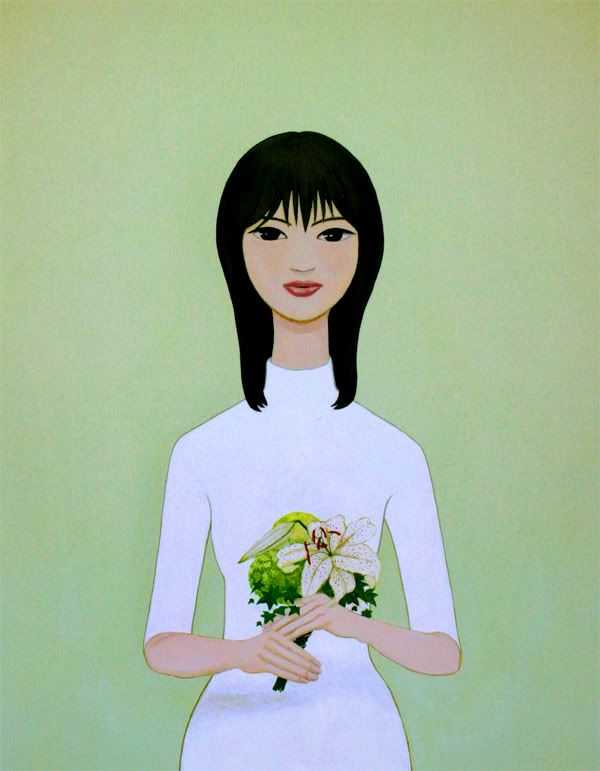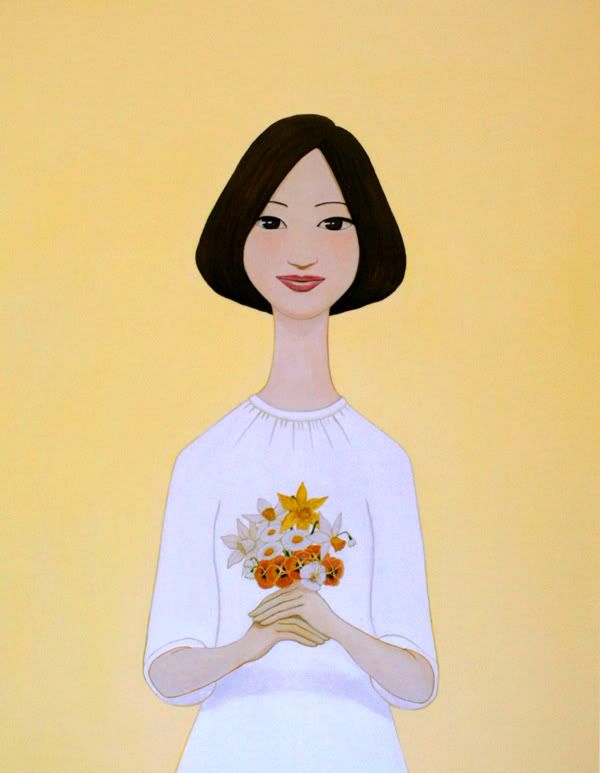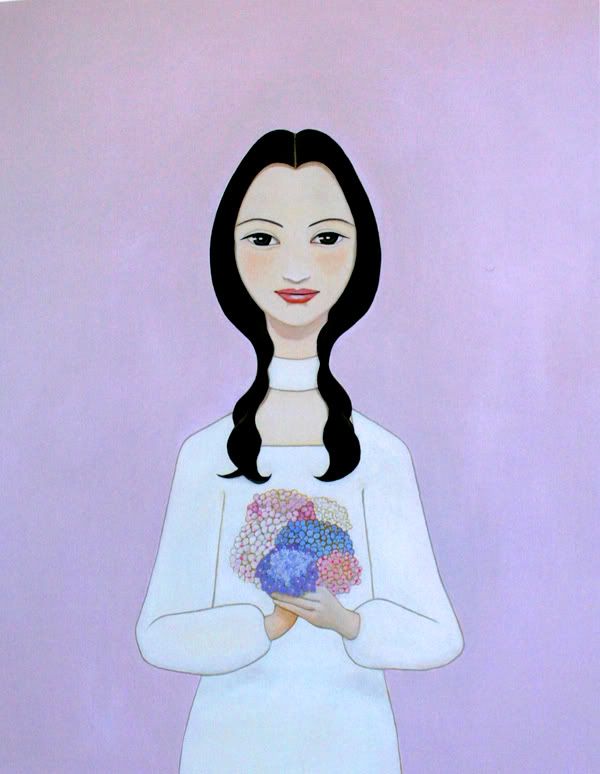 J: 将来の目標は何ですか?
J: Translation: What is your dream for the future?
K: いろいろな側面がありますね。
経済的に自立できるようなアーティストになることも一つだし…。
たくさんの孤独を感じてるインナーチャイルドたちの友になるような作品を作りたいとか…。
クリスチャンアーティストとして神様に栄光をお返しできるような人生にしたいとか…。どんどん夢ばかり大きくなります!そういう大きな夢を見れるアーティストの一人として日々成長させていただきたいです♪ それからギャラリーを造るのも夢です♪
KM: There are many aspects. I want to become a financially independent artist. I want to be able to befriend others' "inner children" who may be feeling isolation. I am a Christian artist, so I'd like my artwork to bring glory to God. I want to be the type of artist who keeps dreaming bigger and bigger. Oh yes, I'd also like to make my own gallery.
-JUURI
Interview: Sweet & Dreamy Keiko Miyashita 宮下桂子
Reviewed by
Julie R
on
12:00 PM
Rating: